Products
Anaconda by Universal Metal Hose

Anaconda Vibration Eliminators® are the original refrigeration connectors designed to isolate mechanical equipment from refrigeration tubing. All Anaconda vibration eliminators are cleaned, dehydrated and sealed in plastic film for refrigeration service. For specifications, call Monti & Associates or view our catalog.
Blue Diamond Pumps

Blue Diamond Pumps Inc. continuously delivers products that are at the forefront of technical development. Driven by a desire to provide innovative pumps to a number of markets, Blue Diamond Pumps supplies products with the consumer in mind, to ensure consistent benefits are delivered in a range of applications.
Duct Saddles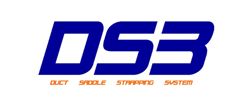 The DS3 is a plastic, load distributing support used to quickly and easily suspend flex duct without kinking, while keeping it fully expanded for maximum airflow. The benefits of The Duct Saddle Strapping System include low-cost, fast and easy installation with no tools required, increased system efficiency,extended life of your HVAC unitand saves a lot of money on your utility bills! DS3 flex duct hangers work with all types of strapping, including traditional metal strapping or the new polyweb strapping. The D3S system is 100% sustainable and reduces the carbon footprint of every home for a greener environment.
Dynatemp International

Dynatemp International, a national distributor of refrigerants to the HVAC/R industry, meets wholesale customers' refrigerant needs through six regional manufacturer's representatives including Monti & Associates in the central U.S. Dynatemp is also the exclusive importer of Rhodia's ISCEON products to the Americas.
Dynacycle

The DYNACYCLE Program is an initiative to provide pure, environmentally friendly products for heating, air conditioning, and refrigeration. DYNACYCLE gases are restored to a pure form, reducing carbon footprints and greenhouse gas emissions, the leading cause of ozone depletion.
Eubank

The Eubank Division of Airxcel, Inc. is a fast growing manufacturer of Wall mount packaged air conditioners and heat pumps. Technologically advanced, quality oriented and focused on our customers, Eubank is a premium supplier that you can count on.
Koch Filter Corporation

Founded in 1966 by Joseph Koch, Koch Filter Corporation is a world class manufacturer of air filtration products. Koch Filter is recognized globally for its premier brand of high efficiency air filtration products and the industry's broadest range of air filters for any application. Our wide array of filtration products is currently installed in over 50,000 commercial, medical and industrial accounts worldwide.
LAU

Dedicated to the replacement business, Lau offers a complete range of products, including FGP series blowers, fire and smoke dampers, control dampers and louvers, universal replacement blowers, propellers and accessories, and ventilation products. Products are designed to keep SKUs to a minimum, and are built to endure the most rugged handling and withstand the increased workload expected of quality replacement products through years of service.
Lucas Milhaupt

Established as a tool manufacturer in 1942, Lucas-Milhaupt, Inc. became a part of Steel Partners Holdings L.P in 2017. Steel Partners Holdings L.P., based in New York, NY is a global diversified holding company that engages in multiple businesses through consolidated subsidiaries, associated companies and other interests. Today, Lucas Milhaupt is a global manufacturer of brazing and soldering materials with facilities in North America, Europe, and Asia.
MA-Line

A supplier of high-quality parts for applications in the refrigeration, air-conditioning, plumbing, and heating and ventilation sectors, MA-LINE Specialty Products offers over 9,000 individual products to wholesalers and OEMS. MA-LINE carries a wide range of available parts, and the company is committed to outstanding customer service and quick turnaround. MA-LINE can meet your needs and those of your customers around the world. View a catalog.
Marsh Bellofram

Monti & Associates carries an extensive range of HVAC, industrial, and general service gauges from Marsh/Marshalltown's division of Marsh Bellofram, the world-class instrumentation manufacturer of gauges and gauge protectors, regulators, thermometers, air cylinders, and other pneumatic and hydraulic devices.
NIBCO
NIBCO is the leading World's manufacture for copper fittings.
nVent Raychem

nVent Raychem keeps people and infrastructure safe from harm, enhances building performance and brings comfort into homes. Our products and services are easy to install and use, sustainable and are relied upon by building investors, owners and professionals in the commercial, residential and infrastructure markets around the world.
Peerless Of America Inc.

Founded in 1912 and based in Effingham, Illinois, Peerless of America manufactures extruded aluminum coils for heat transfer and fabricates heat transfer coils for the automotive, air conditioning, and refrigeration industries. A major supplier in these markets, Peerless has overseas licensees as well. The company's customers appreciate its reliability, quality, service, and innovative products.
Perfect Aire

Quality products and unmatched customer service are the key drivers behind Perfect Aire.
From dehumidifiers of various capacities to an assortment of portable, window, and through the wall air conditioning units, Perfect Aire offers products suited to a wide range of cooling and dehumidifying needs. We also offer a variety of ductless mini-split solutions, which allow for the comfort and convenience of central air without the expensive cost of duct installation. Additionally, Perfect Aire's Packaged Terminal Air Conditioners (PTACs) offer excellent energy efficiency, sleek design and a low profile footprint.
Plasma Air

Plasma Air is a global leader in air purification solutions and is committed to improving the quality of indoor air environment. We offer a full range of innovative chemical-free air purification solutions used in residences, senior living facilities, schools, casinos, airports railway stations and industrial facilities.
Quiet Flex

Founded in 1976 and with corporate offices in Houston, Texas, QuietFlex provides high-quality, low-cost flexible air duct of varying diameters and insulation thicknesses to HVAC wholesalers in the residential and manufactured home industries. QuietFlex also manufactures complementary products used in the residential new construction industry, including connectors, copper refrigeration tube, rubber tube insulation, and a full line of HVAC tapes.
RDM Products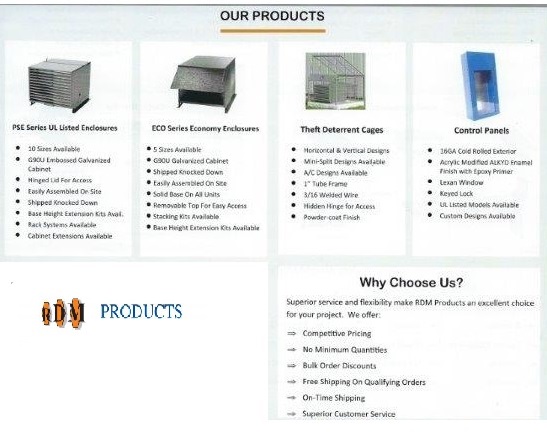 For the past 40+ years, RDM Products' goals have been to offer the highest quality products at the most economical price possible and to be flexible in meeting the requirements and expectations of our customers and the industry. Whether our customers require prefabricated parts, or complete, assembled products, if it is within the bounds of our field of expertise, we will do whatever we can to help our customers succeed.
Refrigeration Research

Founded as a family business in 1944, Refrigeration Research continues under the same ownership, and remains committed to creating innovative, valuable components that improve the performance and reliability of systems in the refrigeration and air conditioning industries. Holder of more than 80 patents for innovative products and processes, Refrigeration Research is based in Detroit.
SouthWire

Southwire manufactures UL-listed plenum and riser thermostat wire and fire alarm cable, all available with overall shielding. The company also manufactures telephone station, pool ground, underground irrigation, and THHN building wires, and solid bare copper for the HVAC, electrical, irrigation and security alarm markets. The company distributes its products through Monti & Associates in the Midwest region.
Triangle Tube

As the original innovator of the fire tube boiler, creating warmth and comfort for families throughout North America is in our DNA. Triangle Tube has been an industry leader in the manufacture and supply of quality stainless steel Hot Water Heating Equipment for over 60 years. Our purpose is to deliver total comfort and peace of mind with heating and hot water products you can rely on.
Uniweld

Uniweld Products, Inc. is a U.S. manufacturing company headquartered in Fort Lauderdale, Florida. Established in 1949 on farmland in the Dania Beach area, the company has grown and expanded into one of the major manufacturers in the welding, HVAC/R (Heating, Ventilation, Air-Conditioning and Refrigeration), plumbing, and alloys markets.
Yellow Jacket

Yellow Jacket® on a charging hose means proven performance. Ritchie Engineering has been engineering, manufacturing and continuously improving Yellow Jacket hoses for decades, and now boasts the largest single line of HVAC&R tools in the industry. From detection through evacuation, from charging to recovery, Yellow Jacket products are the industry standard. Yellow Jacket products are represented in the Midwest by Monti & Associates.